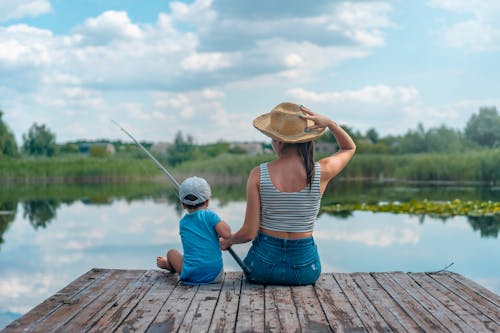 Are you searching for the best fishing hat for kayaking or fishing tours? then you are at the right post.
When it comes to picking a fishing hat for kayaking trips, most of us do not even spare a second to decide which one to wear and which one not to wear.
But, maintaining a careful attitude while picking the best fishing hat is crucial if you want to maximize your safety.
No matter how appealing, throwing whichever hat you can find nearby is not the best strategy to follow.
That is because relying on the wrong hat can vulnerably expose your neck, as well as your face, to the harmful rays of the sun.
A good fishing hat not only shields an angler from ultraviolet rays but also protects him from insect bites.
In addition to that, it keeps the angler warm and dry. Whether you choose a good hat or a bad one for your trip can be the determinant factor that decides whether your trip turns out great or exhausting.
Why Choose a Fishing Hat?
Most fishing enthusiasts and kayakers do not realize how crucial the role of a fishing hat is.
They do not wait to think about the fact that the number of UV rays present near water surfaces tends to be much higher than that present near land surfaces, due to the reflecting nature of water.
And so, they end up putting their health at risk by ignorantly relying on inferior fishing hats.
If you truly care about your health and well-being, you must act differently. You must make it a point to rely on a fishing hat that is not inferior, but superior.
List of Best Fishing Hat in 2022
In all my years of kayaking experience, the following fishing hats are some of the best options available in the market right now:
Image
Product
Details
Price
Electric Triviac
Size: One Size
Variation: 21 Colors
Check Price
Sombriolet Sun Hat
Size: One Size
Variation: 4 Colors
Check Price
MARKETTY Generic Blue Cell Head
Size: One Size
Variation: 1 Colors
Check Price
MG Nylon Juniper
Size: One Size
Variation: 11 Colors
Check Price
1. Columbia Bora Bora Booney Fishing Hat
A hat made of 100% nylon, the Bora Bora Booney II is not just another average fishing hat. Instead, it is one of the finest fishing hats available in the market at present. With UPF 50, the hat successfully blocks out nearly 98 percent of all harmful ultraviolet rays.
Featuring a mesh vent panel associated with an Omni Wick sweatband, the hat strives hard to keep anglers free from sweat and heat when they are exploring water surfaces under the blazing sun.
The hat even features Quick Dry, a feature that dries the hat in no time after it is removed from the water.
Further, there is an adjustable toggle that you can customize according to the size of your head. For enhanced security, the hat features an adjustable chinstrap, as well.
Overall, this particular hat is quite great in a number of different ways.
It is, therefore, no wonder that even the Skin Cancer Foundation recommends this hat highly.
2. Outdoor Research Sombriolet Fishing Hat
The main aspect that separates this Sombriolet hat from its competitors is its extremely light body. You can find many hats that are light but finding one that is as light as this model is not easy.
The hat, offering UPF 50+, does a commendable job of protecting anglers from harmful UV rays even in the roughest of times.
The Solar Shield build of the product is pretty remarkable, and there are vents to keep anglers cool, which are placed quite elegantly throughout the crown.
The hat also contains mesh lining which absorbs moisture to provide dryness.
The product, additionally, offers good resistance to wind. That it does mainly due to the presence of piping on the edge of the brim.
Another thing worth mentioning about the product is that its brim is foam stiffened; which basically means that even if you end up dropping the thing in water somehow, it won't get lost.
For a good fit, the manufacturer has equipped the Sombriolet with a headband, called Trans Action band. The headband primarily helps you by keeping your head free from moisture.
Other than the features already mentioned, the hat comes with a chin cord that is removable, and a drawcord that is adjustable.
3. MARKETTY Generic Fishing Hat
With a design that guarantees protection from harsh sands and sun rays, the Tactical Headwear from Bluecell really deserves undivided attention from anglers, as well as others who need hats for protection.
The hat provides excellent protection from heat during sunny days and weighs very low.
In fact, its lightweight design is one of the best things about it.
Needless to say, carrying it around from one place to another is very convenient.
Additionally, having snap buttons in its body, the Tactical allows quick and easy alternation of style. And the best part is that there are four holes for ventilation to keep anglers cool.
Note, also, that you get a free cable tie inside the package, which makes the overall deal all the more attractive.
4. Flap Hat from 4 Fishing Hat
This particular hat is perfect for embarking on outdoor adventures because it has a brim that is stiff and a width of two and a half inches.
Made of polyester and nothing else, this hat comes with a neck flap that has a width of around 14 inches and a length of about 9 inches.
Due to its design, it can protect you and others from nearly all kinds of rough external elements.
Interestingly, this hat can successfully keep you dry during even very humid situations with the help of its sweatband and inner mesh lining.
In order to ensure a great fit, apart from featuring an adjustable closure made of an elastic band, the hat comes with a chin cord.
All things considered, this one is a really good deal.
Want to see more Fishing Hats?
There are hundreds of different patterns, colors, and sizes in which fishing hats come. And frankly, it does not really matter much what kind of design you pick. As far as appearance is concerned, you can pick anything that impresses you.
What matters is that you pay attention to the safety features of the hat you buy. As long as your hat keeps you safe from harsh elements like rough winds, UV rays, and other exposures, it is all good.
Choose from one of the 4 options I've listed earlier and you'll do just fine. I'll try and keep updating this list from time to time if I find another better fishing hat but for now, go with one of my four choices above.
Last update on 2023-10-04 / Affiliate links / Images from Amazon Product Advertising API
Admin
Welcome to ExtremeKayaker, Here you will get all bout the best Kayak review, guides, and best choice advice to buy.
Related posts