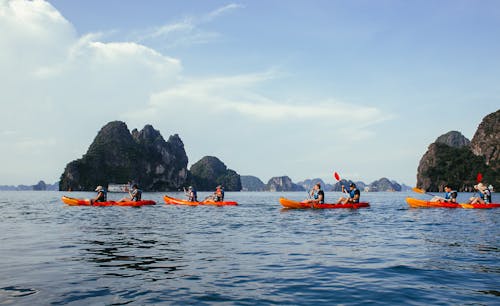 Recreational kayaks are a lot of fun to use in all types of water. Kayaking as a family is a great way to spend quality time together.
Kayaking will give you a great workout without you even realizing it because you're having so much fun.
Recreational kayaks come in a huge range of prices, sizes, styles, and colors.
There are two main types of recreational kayaks: sit-in or sit-on-top. The sit-in kayaks can be a little more stable because they give you a lower center of gravity.
What is Recreational Kayak? How to Choose the Right Kayak
However, some users feel a bit claustrophobic sitting inside the kayak. Larger users might also feel cramped in a sit-inside kayak.
Sit-on-top kayaks can be less stable but are easier to get in and out of. Many people kayaking with kids like the sit-on-top kayaks so that the kids can get on and off the kayak easily by themselves.
How to choose the Best Recreational Kayak
When you are choosing a recreational kayak keep in mind where you are going to use it most often.
If you want to kayak as a way to work out then you should look for a sports kayak that will give you a better workout and be lighter and faster than kayaks built for multiple purposes.
If you want to take your kids out kayaking or kayak just for fun then you should choose a kayak that has the comfort and stability to stand up to long hours of use in multiple types of water and weather conditions. You don't have to spend a fortune to get a good multi-use kayak.
Storage, Style and Accessiblity
Sit-On-Top
Sit-on-top kayaks tend to be more stable and are easy to control. If you are just getting started with kayaking you may find this style much easier to get accustomed to.
This style is excellent for fishing because it allows for maximum mobility of your arms and legs.
Sit-In
Sit-in kayaks tend to be quicker and more agile which is vital if you're paddling rapids or currents.
This style tends to keep the rider drier than a sit-on-top model but you should always dress prepared for a capsize.
Storage
If you plan to camp or make a day out of your kayak excursions you'll need to have plenty of storage.
A recreational kayak should have ample compartments for dry storage of gear, food, and emergencies. Just remember that more cargo equals more weight, which can slow down your trip.
The next consideration to keep in mind is how you're going to haul a kayak.
Transport
Don't forget that you'll need to take your kayak to the water and that means hauling it in your vehicle.
You may want to consider the weight of the unit if you will be handling it often. This includes loading and unloading it to your vehicle as well as carrying it to the water each time.
If you don't have a vehicle that can readily transport a kayak you may need to consider a trailer.
There are actually some very inexpensive trailers available that can be pulled behind a car or truck. Just do some research and you're sure to find something to fit your needs.
What are the Advantages of Recreational Kayak?
These kayaks are often used by people who are new to the sport and want to try it out before they invest in a more expensive type of kayak.
Some advantages of recreational kayaks include the fact that they are cheaper than other types of kayaks, they are easier to control, and they can be used in smaller bodies of water.
Conclusion
In conclusion, Recreational kayaks are the most popular type of kayak, used for recreation and touring.
Recreational kayaks are typically made from a variety of materials, including plastic, fiberglass, and high-density polyethylene (HDPE), which is more durable than other types of plastic.
Admin
Welcome to ExtremeKayaker, Here you will get all bout the best Kayak review, guides, and best choice advice to buy.
Related posts